As a girl born between two sisters, I was, in childhood, emphatically girly. I loved unicorns, ballet, pink things, dolls, My Little Ponies. The tendencies of our elder brother didn't hold much sway with us back then – he was outnumbered – and he seemed happy enough to make his Lego projects and wooden models on his own. I know there was some overlapping of activities, but my strongest memories were dominated by our female sensibilities.
I've learned a lot since having a son. I remember worrying, while pregnant, that I wouldn't know how to relate to him… and then being glad to discover that when it's your child, relating is not a problem. Love takes care of it. And fascination, too: everything that interested him automatically interested me, because I wanted to know him completely.
I had already talked to other parents who had discovered that, no matter how gender-neutral you try to make your parenting, most boys love VEHICLES. Diggers, dump trucks, racecars, school buses. We knew E liked cars even before he had any – just the pictures of vehicles in his books thrilled him.
Last year, teaching five different groups of kindergartners, I found that this trend held firm. Boys loved the cars, ramps, robots, dinosaurs, and Lego; girls loved the "babies", dress-up clothes, dollhouses, beads, and pretend food. Give them things like geometrical shapes, and some boys would use them to role-play "good guys and bad guys"; girls would role-play "mommies and babies". There was some crossover, and plenty of neutral territory in puzzles, blocks, books, painting, etc… but still. I was surprised at how pronounced these proclivities were, and couldn't help wondering about the Nature/Nurture proportions in these kids' preferences.
It's amazing how early children learn about "boy" stuff and "girl" stuff. Whether it's from parents, kids, or other role models, it makes me uncomfortable – because most children, being so spongy, assimilate these lessons deeply.
At this tender stage, I worry most about the boys. The first year I taught Grade 1, there was a wonderful little boy I wanted to take home with me. He was quiet, sweet, bright, smiling, artistic. At age 6, the trees he drew not only had leaves on them, but the leaves had veins. I remember that on Valentine's Day, he wore a red shirt and pink pants. He was adorable.
By Grade 2, he had become vocal about his love of princesses. My heart broke one day as the class discussed a story we'd read, and he mentioned Cinderella… and already, I could see other boys in the class exchanging surreptitious smirks, mocking inside their heads: this boy wasn't following his gender role. (He's now in Grade 6, in another school. I hope he's okay.)
My son, with all his love of cars and dinosaurs and Lego and crazy sound effects, has a princess side too.
His Auntie Beth recently gave him a set of lavender fairy wings. He loves them; he even went biking with them on once. They became part of his dragon costume for Halloween.
The first time E had his nails painted, it was at the small home daycare he attends (where peer pressure is low). The girls were doing theirs, and naturally he wanted his done too. Why not? What kid wouldn't want awesome-coloured fingernails? But M warned me about it tentatively, before I noticed it, because she knows that some parents object to nail polish on a boy. HA. We all loved it, because he was so delighted. Now we do his nails on a fairly regular basis.
He's always been a little fashionista. Even before he turned two, he would notice my jewelry: "That's a pretty necklace, Mummy." He loves to wear his Mardi Gras beads and the hand-made necklace from his Family Camp friend. Once, he put them on and picked up a broom and said, "Mama, look. I'm a princess, sweeping."
He also does this thing, if you can catch him in the right moment, called "princess dancing": uplifted arms, swaying steps, poignant little head-tilts… and a childishly seraphic smile. Almost unbearably beautiful.
For now, these aspects of his personality commingle with his more "boyish" tendencies.
His favourite movies are Cars and TinkerBell.
He has two beloved re-usable bags: one picturing Lightning McQueen, and the other, Disney princesses.
He gets just as excited about butterfly tattoos as firetruck tattoos.
During kids' gym time at our local YMCA/YWCA, I once saw two staff members lovingly ogling my kid as he rode a mini-Cat tractor with one hand, dragging a doll stroller with the other.
Sometimes he uses his cars to play family-type drama: "These two cars are getting married, and this big car is moving to a new house and the other cars are worried about him."
I adore his openness, his natural expression of what he loves. I want him to be able to keep ALL of it.
I hurt to think of how soon these parts of his wonderful Self will be drummed out of him. He's always liked pink, but recently says he doesn't. He tells me, "Mama, your favourite colours are pink and purple," because I'm a girl. (I prefer teal, I tell him.)
He'll be going to JK next September. I don't want to advise him to do things that will lead to ridicule… but I want him to feel welcome to embrace his whole self. I want him to be him.
I want him to be like my 12-year-old male student who was so confident, he was completely unabashed about being the only boy in his jazz dance class, and sometimes wore a furry pink bedjacket to school just for kicks. I want my son to have that powerful, joyful, unswerving sense of self – and to share it.
That's what leads to acceptance. So that it's okay for little boys to go to school with pretty fingernails.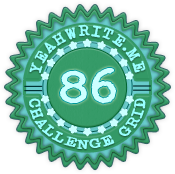 ***
[subscribe2]